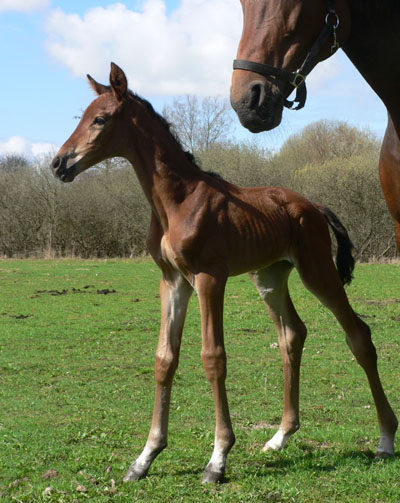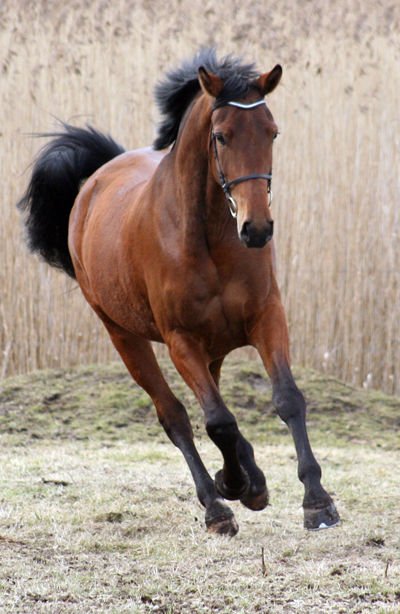 Rosalina - 2006 – NEW VIDEO - under sadle for just 4 weeks at Sandra Frieling Stable i Germany

Rosalina out of Ravenna Hann. by Harmony´s Rousseau (Olympic Ferro/Römer) KWPN, Hann. Old.
Rousseau was licensed in Holland, and he was sold at the auktion as the most expencive stallion among the 3-years old. 2002 he was winner of the PAVO-CUP in Elmelo with 2 X 10 for rideability. 2003 Rousseau won a silver medal in Verden at WM for 5-years old dressage horses.
Not only his farther: the famous OLympic Ferro, but also Rousseau´s dam Zsuzsa was educated on Grand Prix level.
Rousseau has proved the titel as an international dressage sire: He produced three consecutive Champions of the KWPN Stallion Licensing: Wamberto (2006), Zagreb (aka Blue Hors Zack) (2007), and Ajong (aka Ampere) (2008). From his very first foal crops in Germany, Rousseau already has four licensed sons: Fiorano named to the Premium Ring of the 2008 VhW licensing, Fuerst Rousseau now standing at Celle, and most recently, a Rousseau-Lauries Crusader licensed in the late 2008 Hanoverian korung and a Rousseau-Del Piero licensed by the GOV. Three of Rousseau's sons won their stallion
performance tests with record-breaking results, Wamberto, Fiorano, and Ampere!
Since 2006 Harmony´s Rouseeau is stabled at Hassler Dressage (Scott Hassler) in the States.
Rosalina is a nobel mare of a modern dressage type standing a. 170 cm. She has 3 very good and correct gates with a lot of power and an active hind leg. She is most cooperative when worked with, and she has at lot of nerve, but without being "spooky".
As a 2-years old Rosalina was shown before the Hannoveranian Commity 2008, and got a very good description.
Under the pedigree you find photos of her during lounge training in the summer 2008, and you can watch a video of her here from the presentation before the Hannoveranian Commity.